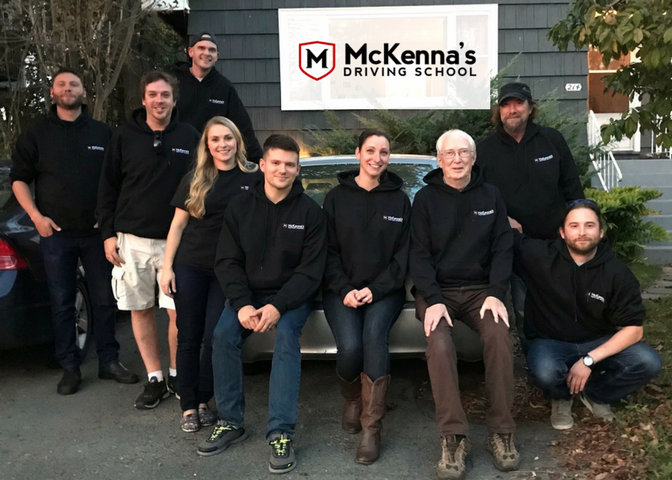 Family owned and operated by Ron McKenna for over two decades, McKenna's Driving School is proud to have provided safe and affordable driving instruction in the Dartmouth, Halifax and surrounding areas to thousands of students since 1996.
Jake McKenna took over the family business in 2017 and appreciates the reputation that his father Ron has built in our community. McKenna's Driving School continues to grow with the dedication and support of our team. Our friendly and experienced instructors maintain well-earned 5-star reviews for our thorough in-class and in-vehicle lessons.
Our hand-picked instructors are a highly skilled team who receive continuous training and are fully certified by the province of Nova Scotia. McKenna's operates fully licensed and insured.
Our Team
Ron Mckenna
Fleet Manager and In-Vehicle Instructor
Ron's been the face of Mckenna's Driving School since inception and he has led the company to be a top choice driving school in the Halifax area. Since 1996, Ron's laid back but professional approach to in-vehicle lessons make him a highly respected instructor in the city. Into retirement now, Ron handles managing our fleet of vehicles ensuring we are in tip-top shape.
---
Jake Mckenna
Owner/Operator and In-Vehicle Instructor
Following in his father's footsteps, Jake's keen business sense and over eight years of experience have contributed to the success of this second generation family owned business. Jake is excited to be implementing his dad's extensive lesson plans while introducing fresh ideas to provide the best service to our students. Jake's hard work and dedication to his students is evident in his approachable but comprehensive in-vehicle lessons accompanied by jokes and good conversation.
---
Sam McKenna
In-Vehicle Instructor
Sam has been a part of growing McKenna's since 2012. Besides surfing
almost full time, Sam is a part-time instructor who teaches students how to safely drive around our roads. The youngest of the McKenna's, easy going Sam helps make driving a positive experience.
.
.
---
Chad Lovett
In-Vehicle Instructor/6-hr Defensive Driving Course Instructor
Chad came to us as a new driving instructor years ago and has been a great addition to our team, now teaching our 6-hour Defensive Driving Course. We appreciate his natural approach to teaching driver's education. He has been enthusiastically teaching hundreds of our students how to drive. He is excited to be starting to support our offline and online marketing, as well. Committed to safety, Chad strives to provide the best in-vehicle instruction to his students.
.
---
Kaylee Bunyan

In-Vehicle Instructor
Kaylee joined the team in 2015 while earning a reputation as one of the cities top instructors. She is a true go-getter and we are excited about her knack for teaching and her ability to make driving a positive experience. Kaylee is passionate about what she does and is often recruiting new team members for our growing school. Thanks, Kaylee!
.
---
Alex Marshall
In-Vehicle Instructor
Since January 2018, Alex Marshall has been dedicated to his driving instructor career with McKenna's. A natural driver behind the wheel with thorough lessons, we know Alex will continue to provide the great quality of service the McKenna's team strives for. When not on the road, Alex can be found hanging out with his two dogs.
.
---
Todd Warren

In-Vehicle Instructor/In-Car Instructor
Todd joined us in 2017 and he is the driving force behind our Halifax in-class location that opened that year. He comes from a family of driving instructors and brings years of experience both in class and in the car. We receive great reviews from our students and we are grateful for his thorough instruction.
---
---
Bill White
In-Class Instructor
Dedicated team member Bill joined us with years of teaching experience. With a strong public education background, it is easy to see that he is passionate about safety on the roads and his thorough lessons cover everything you need to know and then some.
---
Glenna McKenna – In Loving Memory
Glenna was the heart, soul, and voice of McKenna's for years and she will be greatly missed by everyone that had the pleasure to meet her either over the phone getting McKenna's info or in person. The McKenna boys will certainly miss her keeping them in line but she will never be forgotten. Thanks for everything Glenna – McKenna's Driving School will never be the same…